We had to change our traditional golf tournament this year due to personal reasons, BUT we are happy to announce we are doing a tournament at TopGolf in Roseville. We didn't want to completely cancel our tournament as this is our 6th year and a tournament at TopGolf is completely doable, so we are going to give it a try.
Friday, October 7, 2022, is the date, and we will begin registration at 9:30am. TopGolf, Roseville, 1700 Freedom Way, Roseville, Ca. 95678.
After meeting with TopGolf, Roseville, checking out the facility, and sampling their food, we are STOKED! This is going to be a FUN day with some EXCELLENT food and I know a great time will be had by all. The bays that you play from are climate controlled and each bay can hold a team of six. We were able to drop the price to $100 for this event, which is awesome!

Here's what you get
3 hours of tournament game play, which includes

TopContender - Exclusive Tournament Game
Golf pro to oversee competition logistics
Tournament ambassadors to provide game demo and manage tournament flow. Structured and concise timeline
New! Live team leaderboard across TVs in all event bays
New! On-screen Tournament & Team Naming feature
Backyard BBQ Buffet which includes
Nashville hot fried chicken
Slow-smoked beef brisket with BBQ sauce
House baked beans with bacon
Buttermilk biscuit and whipped butter
Unlimited soda, water, and iced tea.
Bring your clubs, or use their clubs.
1 beer, or wine drink ticket.
The bays are climate controlled. If it's hot, there are misters. If it's cold, there are heaters and if it's raining, the bays are covered.
All level of golfers are welcome, even non-golfers.
Our own event space.
Raffle and 50/50 tickets will be for sale.
Blessings in a Backpack (BIAB)
123 King
Sacramento, CA, 95827
Mailed payments must be received by September 30, 2022, and please include the golfer registration available at the link below.
+ more
Payment Info
For online payments, please follow this link (coming soon) to Guestlist or you can mail your checks, made out to

Blessings in a Backpack (BAIB) and Friends of Folsom (FOF) are feeding our local communities. With BIAB sending home weekend food, every single Friday during the school year, for 500 students who attend our local elementary schools. FOF provided over 10,000 turkeys to the Sacramento Food Bank, on top of the many other projects they have their hands in, and this was NOT the 1st year FOF has donated over 10,000 turkeys to local communities. Please check them out by following this link,
Friends of Folsom.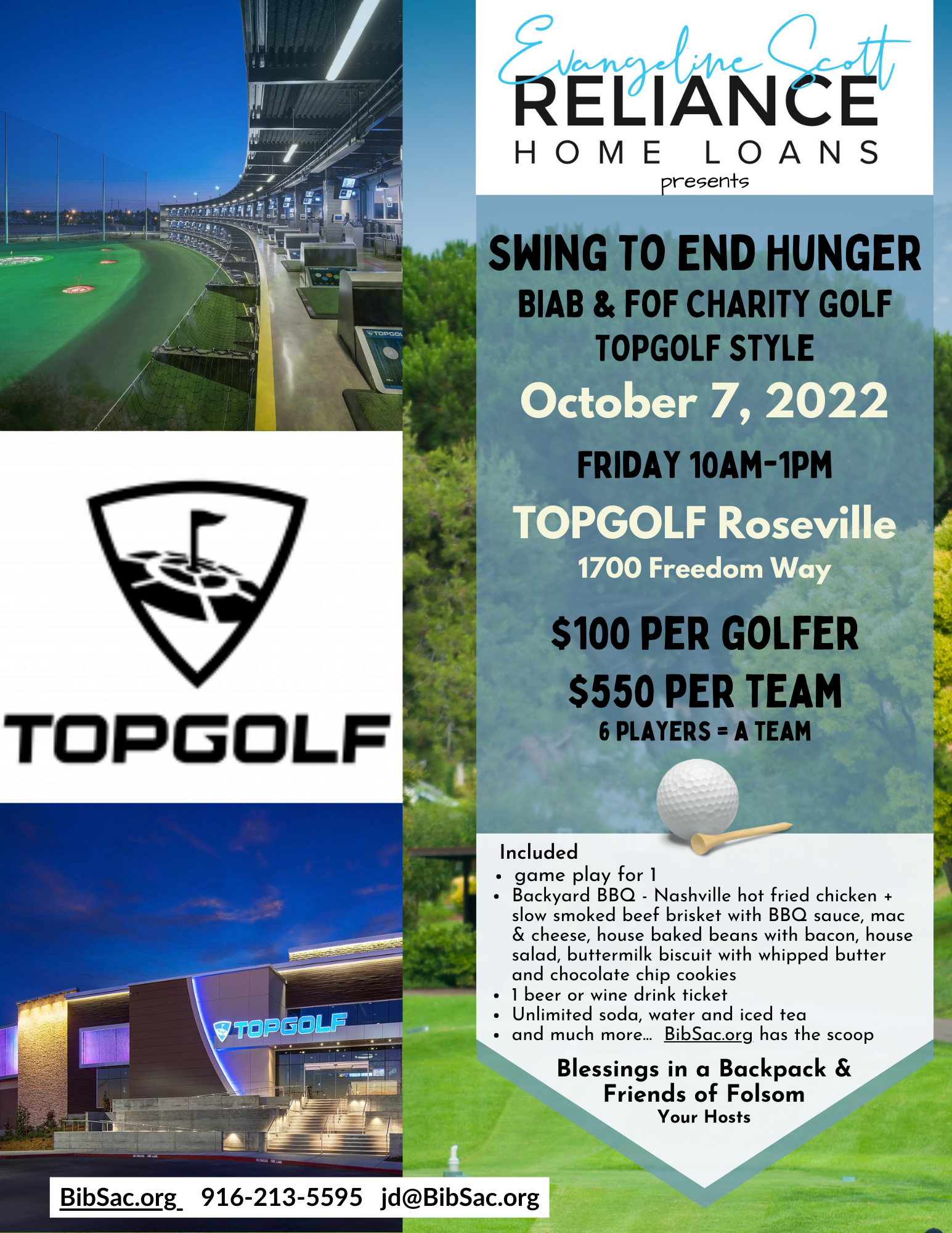 Special Thanks To Our Sponsors & Friends
Clicking on our sponsors and friends logos will take you to their websites.